Betrayed and Arrested
April 07, 2019 | Brandon Lenhart
Passage: John 18:1-14
Betrayed and Arrested
(John 18:1-14)
Yearly Theme: "Love Is…"
Series Title: Truth and Justice
April 7th, 2019
Something to think about:
As we come into a new Easter season, we will be taking a close look at an aspect of Jesus betrayal, arrest, crucifixion, and resurrection. The aspect that we will be focusing on is an aspect of "Love." It's the aspect of love that Paul defines as, "doesn't rejoice about injustice, but rejoices when the truth wins out."
As we focus on love from a truth and justice angle for the next few weeks, we will see how truth always wins out over injustice. We will see how love ultimately conquers evil, and how hope breaks through even the darkest, toughest times of life.
We begin today by looking at the story of Jesus' betrayal and arrest.
John 18:1-14 (NLT)
1 After saying these things, Jesus crossed the Kidron Valley with his disciples and entered a grove of olive trees. 2 Judas, the betrayer, knew this place, because Jesus had often gone there with his disciples. 3 The leading priests and Pharisees had given Judas a contingent of Roman soldiers and Temple guards to accompany him. Now with blazing torches, lanterns, and weapons, they arrived at the olive grove.
4 Jesus fully realized all that was going to happen to him, so he stepped forward to meet them. "Who are you looking for?" he asked.
5 "Jesus the Nazarene," they replied.
"I AM he," Jesus said. (Judas, who betrayed him, was standing with them.) 6 As Jesus said "I AM he," they all drew back and fell to the ground! 7 Once more he asked them, "Who are you looking for?"
And again they replied, "Jesus the Nazarene."
8 "I told you that I AM he," Jesus said. "And since I am the one you want, let these others go." 9 He did this to fulfill his own statement: "I did not lose a single one of those you have given me."
10 Then Simon Peter drew a sword and slashed off the right ear of Malchus, the high priest's slave. 11 But Jesus said to Peter, "Put your sword back into its sheath. Shall I not drink from the cup of suffering the Father has given me?"
12 So the soldiers, their commanding officer, and the Temple guards arrested Jesus and tied him up. 13 First they took him to Annas, the father-in-law of Caiaphas, the high priest at that time. 14 Caiaphas was the one who had told the other Jewish leaders, "It's better that one man should die for the people."
Here's the key point this morning…
Key Point: "Sometimes the truth is hard to believe, even when it's staring you right in the face."
There are a couple takeaways from this passage that are important to highlight:
Jesus knew the truth, saw the truth, and was the Truth.
The Roman soldiers and the Temple police were taken off guard by the truth of Jesus very presence.
Some people can't believe the truth even when it's staring them in the face. But truth is true even if we believe it or not. And if Jesus is the Truth as He proclaimed He was then the very presence of Jesus can knock a person off their feet.
Something to take home:
Winston Churchill once said, "Men occasionally stumble over the truth, but most of them pick themselves up and hurry off as if nothing happened."
Have you stumbled over the truth and allowed it to change your life, or have you picked yourself up and hurried off as if nothing ever happened? What are you basing your life on? Are you living your life based on opinionated guesses, personal desires, or do you believe in the ultimate truth of Jesus Christ?
Once you've been presented with the truth there is a decision to make: Either you can accept it and let it change your life, or you can reject it and never know true freedom.
Key Point: "Sometimes the truth is hard to believe, even when it's staring you right in the face."
Interactive Sermon Notes
You can add your own personal sermon notes along the way. When you're finished, you'll be able to save your notes as a .pdf file.
Follow Along with the Message
Series Information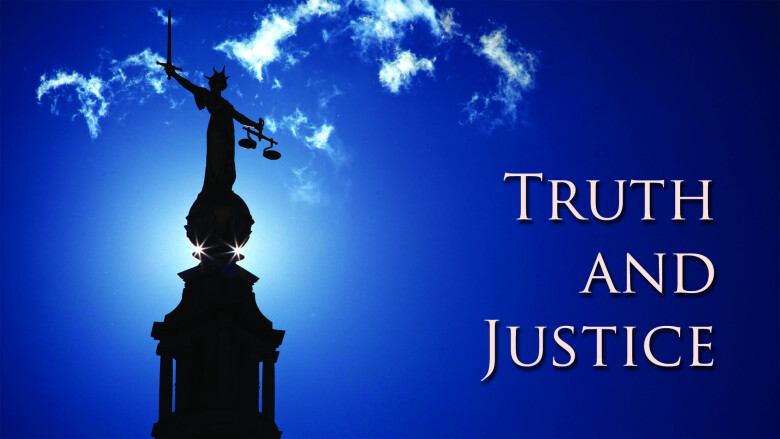 April 2019