We believe as a Young Adult Ministry that we want our Young Adults to have healthy and strong marriages. Strong marriages take time and intentionality. We want to create the space for you to get away with your spouse, learn together, and grow together in your marriage.
Our speakers for the event are Pastor John and Sandy Kuert. They have not only been in pastoral ministry for over 40 years but have been married for over 50 years and are licensed family counselors. They bring a wealth of knowledge and practical tools for you to start implementing in your own marriage. You will learn and grow under their leadership.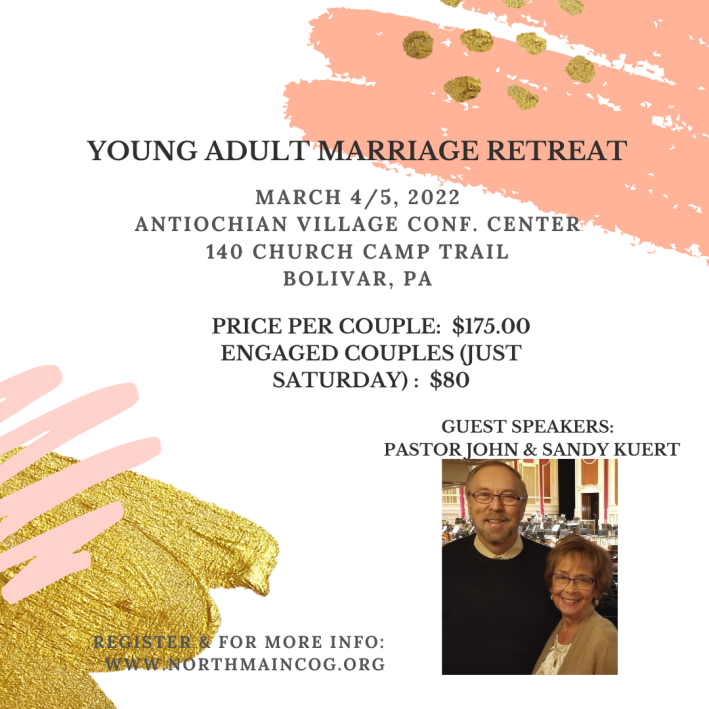 Come and join us for an overnight stay at
The Antiochian Village Conference Center in Bolivar, PA (about 6 miles from Ligonier). You and your spouse will have your own room (hotel style) - all linens and bath towels are provided. All you need to bring is your toiletries.
Things you need to know:
Dinner - provided at A.V.C.C will begin at 5pm on Friday evening, March 4th.
Please make every effort to be there by 4:30 to get checked into your room.
We did allot for time on Saturday, March 5th in the afternoon for a date with your spouse. This was intentional and we want you to use it!
There are multiple things you can do during your date in the Laurel Highlands.... hiking, napping, schedule a couples massage at Oak Lodge (about 23 min. from Antiochian Village), Latrobe is 25 min away- you can go there for lunch and exploring.... whatever you want to do! Be creative!!
We will conclude by 6:30pm on Saturday.
This 2 day event is an investment in your marriage.... it's so worth it!
---
Want to be part of our Text Message System?
Just text @d29ff2 to 81010 and answer the questions.
Instagram // theone_youngadults